About us
Doremir Music Research AB
Doremir Music Research AB is a leading "Musical Intelligence Company" based in Stockholm, Sweden.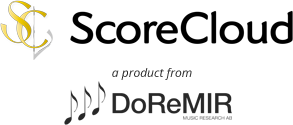 Under the brand name ScoreCloud lays Doremir's Software Suite, with the goal of becoming the ultimate platform for notation based music creation. Doremir's unique technology enables users to easier than ever before capture and digitize their musical creativity – just like "Google Translate", but for music. The technology behind this product is based on 20 years of research in music cognition. The company is backed by Swedish and International Private Investors together with the VC Fund Almi invest.
Our vision is to reach a wide audience of music amateurs and lovers of music who never thought they could write a song, as well as professional and accomplished musicians. This product package is revolutionizing the way music is recorded and shared, by professional musicians as well as the teenage garage bands across the world.
Visit the website for more information
or contact CEO, Sven Ahlbäck.
---
ScoreCloud Studio
ScoreCloud Express
---
The ScoreCloud Story
DoReMIR's founders: Sven Ahlbäck & Sven Emtell
What happens when a fiddle playing professor at the Swedish Royal Academy of Music and expert in music cognition and a bass playing computer engineer get together?
In DoReMIR Music Research AB, the answer is a ground-breaking new music app, called ScoreCloud Express that makes it possible for anyone with a mobile phone to score any melody instantly and share it. "The ScoreCloud Express App listen to your melody, instantly writes it out in musical notation, and then makes it possible to share the written music via social media websites or email," says Sven Emtell. Emtell developed the app as part of his computer engineering master's degree project at KTH with collaborator Sven Ahlbäck, who is now a professor at Stockholm Music University.
The history of the cognition
The story started twenty years ago with Sven Ahlbäck, one of Sweden's most prominent folk musicians. At the time his day job combined teaching at The Royal College of Music in Stockholm with touring, giving concerts, composing and arranging music. As a practicing musician and professional interpreter of music he became obsessed with organizing these thoughts and eventually the obsession grew into his doctoral thesis project.
The subject of his thesis was to try to create a model for how much we understand a musical structure as human beings and which cognitive abilities all human beings share. Sven's research showed that we all actually understand music on a deeper organized level involving more than just the element of chance or pure emotion.
When music met technology
At the time Sven Ahlbäck was pursuing the process of putting his model of music cognition into action, Sven Emtell, an avid and accomplished bass player, was just next door to the Royal Academy of Music, studying to become an engineer of computer sciences at The Royal Academy of Technology. Upon seeing Ahlbäck's note on the campus bulletin board, seeking someone to realize the music cognition model digitally, Emtell jumped at the opportunity.
Together they started creating a way to analyse and represent musical structures in a digital environment. Years passed before their dream of creating a functional version of their thesis was realized. Finally, after joining a fiddle-playing professor's obsession with understanding the understanding of music with the programming skills of a bass-playing computer engineer, their dream became a reality.
Notation for everyone
"Users need not know how to read or write music," Emtell says. "Even playing an instrument is optional. The user can hum or sing the melody into their mobile's microphone, and the app instantly displays the notation on the screen, with the right key, tempo and time signature. Musical notation is a universal language, so the market for this app is enormous," he says.
The way in which ScoreCloud Express listens to and understands musical structure is based on research performed at KTH into how people interpret music. The sound analysis function was developed at the Department of Speech, Music and Hearing at KTH.
ScoreCloud works like "Google Translate", but for music!
A computer program version of the app, ScoreCloud's Desktop, works like "Google Translate", but for music, Emtell says. It understands and writes not only simple melodies played or sung by the user, but more complicated passages of music with multiple notes, or what is known by musicians as polyphony. All that is needed is a midi synthesizer connected to the computer, and the program automatically writes out the music with pitch and note values.